Current Openings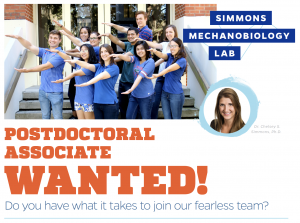 We are currently searching for a Postdoc and Lab Manager to start in 2020 who will work to understand the altered mechanosensing seen in the African Spiny Mouse cells. Successful candidates will have a Ph.D. in a biomedical field, extensive experience with tissue culture and cellular/molecular assays, excellent writing, management, and communication skills, and a record of success at the bench, of course! Experience with focal adhesion/cytoskeletal dynamics a plus. Please email Dr. Simmons with your cover letter, CV, and thoughtful questions!
More information can be found here: Simmons Lab Recruitment Flyer
Want to join our lab?
The first step for undergraduates to join the lab is to attend a group meeting (Wednesdays from 4:00-5:00 pm in MAE-B 237) or an open house. ***During Spring 2020 due to COVID19 concerns, you may log into group meeting using Zoom https://uflphi.zoom.us/j/3847158295*** Please do not email Dr. Simmons until you've had a chance to meet her or labmembers in person.
Sign up for our newsletter here!