Current Openings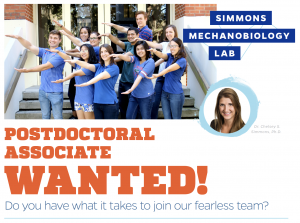 We are currently searching for a Postdoc to start in Fall 2021 who will work to understand the altered mechanosensing seen in the African Spiny Mouse cells. Successful candidates will have a Ph.D. in a biomedical field, extensive experience with tissue culture and cellular/molecular assays, excellent writing, management, and communication skills, and a record of success at the bench, of course! Experience with focal adhesion/cytoskeletal dynamics a plus. Please email Dr. Simmons with your cover letter, CV, and thoughtful questions!
More information can be found here: Simmons Lab Recruitment Flyer
Want to join our lab?
N.B. New undergrads will not be able to join the lab until later in Fall 2021 due to COVID concerns. In the meantime, you are welcome to call into group meetings. Zoom info is in the event details on the Google calendar.
Sign up for our newsletter here!