Paul Gader has been active in landmine detection algorithm research since 1996 starting with Humanitarian Demining and moving into mine and IED detection.  He has participated in and led many landmine/IED detection projects using data from Acoustic/Seismic, standard and wideband EMI, FLIR, SAR, and LWIR and VISNIR/SWIR hyperspectral sensors. 
Explanatory Video by Florida Museum: PAUL GADER | Landmine Detection
In 1998, Paul Gader and Hichem Frigui devised a real-time mine Ground Penetrating Radar (GPR) detection algorithm that was a top performer in blind testing. He became Technical Director of the U. of Missouri Humanitarian Demining MURI. He and Dominic Ho developed algorithms for hand-held mine detection devices currently in use by the U. S. Army.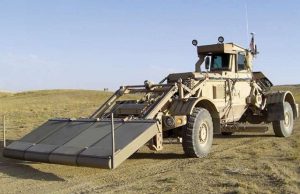 Professor Gader led teams that devised and implemented Hidden Markov Model and Possibilistic detectors in real-time on a Husky-Mounted Mine Detection System fielded in Afghanistan in 2008.  The systems with his team's algorithms are featured in a National Geographic Television program: "Bomb Hunters: Afghanistan".
Want to know more? Click on this link:
Landmine Detection with Ground Penetrating Radar using Hidden Markov Models