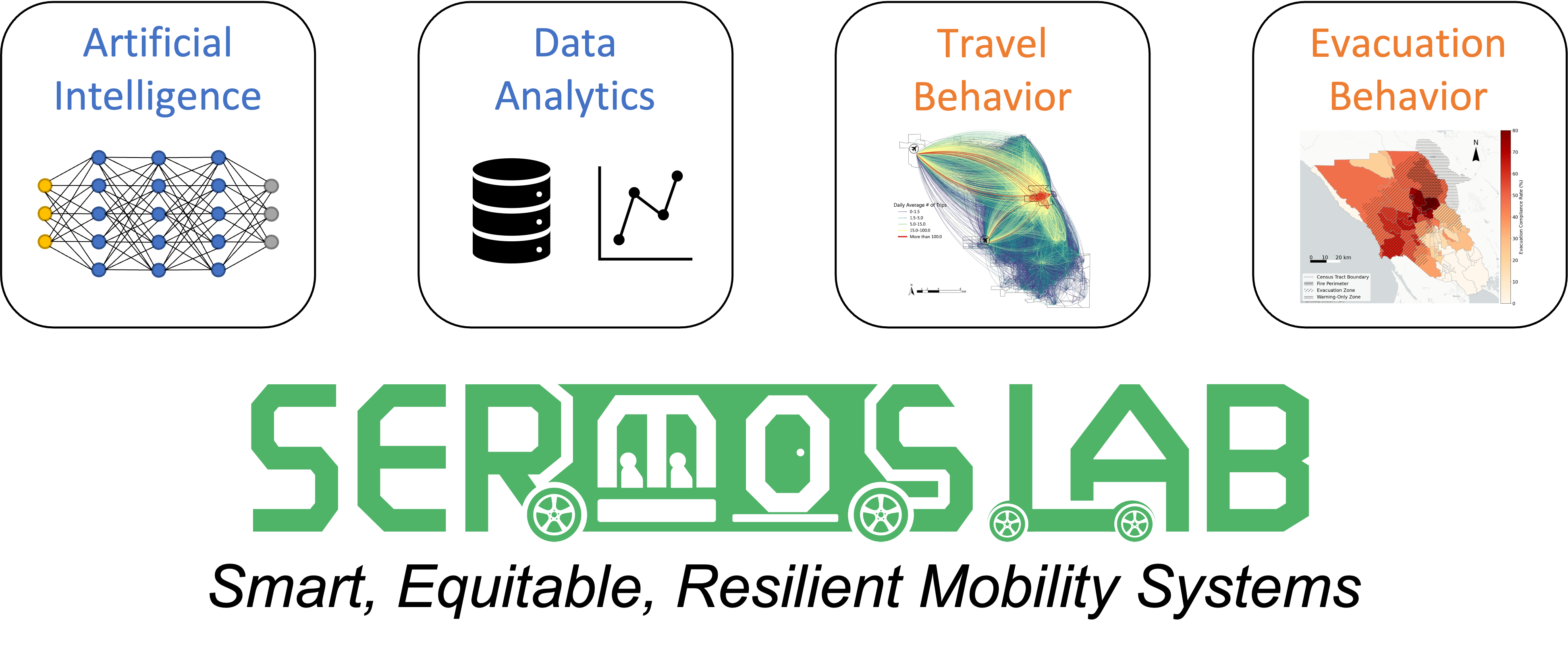 Welcome to the Smart, Equitable, Resilient Mobility Systems (SERMOS) Lab!
The SERMOS Lab is a transdisciplinary research lab led by Dr. Xilei Zhao, Assistant Professor in Civil and Coastal Engineering at the University of Florida. We invent and apply AI and data science methods to create smart, equitable, resilient mobility systems. Our transdisciplinary team is made up of transportation engineers, computer scientists, systems engineers, and social scientists. Our expertise includes:
Data analytics and travel behavior modeling for innovative mobility (e.g., ridesourcing and micromobility)
Modeling and planning evacuation
Quantifying resilience for critical infrastructure systems, societal systems, and communities
Openings!
SERMOS Lab is always looking for talented students to join our team!! The openings are at all levels, i.e., undergraduate/graduate researchers, Ph.D. students, and postdoctoral fellows. To express your interest in joining our team, please email your complete CV and a short cover letter (up to one page) to Dr. Xilei Zhao (xilei.zhao@essie.ufl.edu). With our strong commitment to diversity in engineering education, research, and practice, we especially encourage minorities and women to apply.
Recent News!
Apr 2023: Our lab's paper, entitled "Shared e-scooters: User characteristics and usage patterns across four U.S. cities," was accepted for publication in Transportation Research Record.
Mar 2023: Dr. Zhao and Xiaojian were part of an international team to publish a new dataset, entitled "M7.8 Turkey-Syria Earthquake Impact Estimates from Near-real-time Crowdsourced and Remote Sensing Data," on DesignSafe-CI. 
Feb 2023: Dr. Zhao (UF PI) won a USDOT Tier 1 Center for Equitable Transit-Oriented Communities.
Jan 2023: Our lab's paper, entitled "Exploring the potential of shared e-scooters as a last-mile complement to public transit," was accepted for publication in Transportation Research Part D: Transport and Environment.
Jan 2023: Our lab's paper, entitled "Real-time forecasting of dockless scooter-sharing demand: A spatio-temporal multi-graph Transformer approach," was accepted for publication in IEEE Transactions on Intelligent Transportation Systems.
Jan 2023: Our lab members gave multiple lectern and poster presentations at TRB 2023.
Jan 2023: Dr. Zhao (Lead PI) won an NSF project, entitled "RAPID/Collaborative Research: Households' Immediate Protective Actions and Trade-Off Processes Between Property Security and Life Safety in Response to 2022 Hurricane Ian."
Jan 2023: Our lab's paper, entitled "Predicting and assessing wildfire evacuation decision-making using machine learning: Findings from the 2019 Kincade Fire," was accepted for publication in Fire Technology.