Education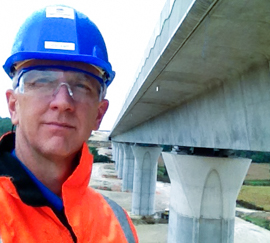 University of Texas at Austin, Doctor of Philosophy, 1995
University of Florida, Master of Engineering, 1986
University of Florida, Bachelor of Science in Civil Engineering, 1983
Academic Experience
Kisinger Campo & Associates Corporation Term Professorship 2017-present
University Term Professorship 2017-present
Structures Group Coordinator 2013-present
Byron D. Spangler Professor, 2013-2015
Professor, Dept. of Civil and Coastal Eng., University of Florida, 2013-Present
Associate Professor, Dept. of Civil and Coastal Eng., University of Florida, 2001-2013
Asst./Assoc. Professor, Dept. of Civil and Architectural Eng., University of Wyoming, 1995-2001
---
Industry Experience
Structural Engineer, Bodo and Assoc., Gainesville, FL, 1986-1991
Project Engineer, Dyer, Riddle, Mills, & Precourt, Inc., Orlando, FL, 1984-1985
---
---
Research and Teaching
Dr. Trey Hamilton is Professor of Civil Engineering in the Engineering School of Sustainable Infrastructure and Environment at the University of Florida in Gainesville, Florida.  He obtained his BSCE (1983) and ME (1986) from the University of Florida.  He was in private practice as a design engineer for about 7 years prior to obtaining a PhD from the University of Texas at Austin in 2005.  He was at the University of Wyoming until 2001, when he joined the faculty at the University of Florida.  He currently teaches courses in Structural Concrete and Masonry Design and Behavior.
Dr. Hamilton's main research and professional interests involve structural concrete and masonry design and testing; durability and evaluation of existing bridge and building structures; repair and strengthening with fiber reinforced polymer composites.  His scholarly work has focused on the development of methods and materials to improve the sustainability of structures and his professional activities have focused on the implementation of those results in construction and rehabilitation.  Dr. Hamilton's research emphasis has been on applied research in areas that can have an impact on engineering practice.  Results of his work can be found in such documents as Building Code Requirements and Specification for Masonry Structures (2013) and Specifications for Grouting of Post-Tensioned Structures (2012).
Dr. Hamilton's research and scholarly contributions have been recognized nationally on a number of occasions with awards and honors.  Dr. Hamilton is a fellow of both the American Concrete Institute and Post-Tensioning Institute.  In addition, he has won awards for papers from such prestigious organizations as American Society of Civil Engineers, ASTM International, the American Composites Manufacturer's Association, The Masonry Society, and International Concrete Repair Institute.  Most notable of these is the 1999 J. James R. Croes Medal awarded by the American Society of Civil Engineers across all disciplines of Civil Engineering.
---
Contact Information:
hrh@ce.ufl.edu | (353) 294-7797
Office:  475K Weil Hall
Mailing/shipping:
Department of Civil and Coastal Engineering
365 Weil Hall
Gainesville, FL 32611