PI
Andreia Fonseca de Faria
Andreia was born and raised in Brazil, state of Minas Gerais. She went to the Federal University of Viçosa to pursue a bachelor degree in chemistry. After college, she went to Campinas, São Paulo, where she received her Ph.D. in Food Science at the University of Campinas (UNICAMP). Working at the interface of chemistry and biology, Andreia is excited to use her background to find alternative solutions to the problem of water scarcity.
Email: andreia.faria@essie.ufl.edu – Telephone: 352-392-7104
My CV Resume_Andreia F. Faria   Google Scholar
Ph.D. Students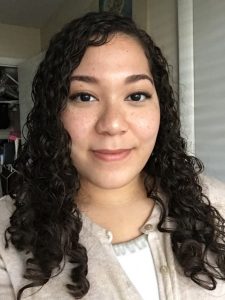 Jennifer Jackson
Jennifer was born and raised in Miami, Florida. She completed her undergraduate studies in Chemical Engineering at the University of Florida (UF), and she is currently a Ph.D. student in the Department of Environmental Engineering Sciences at UF. Her research interests focus on increasing freshwater production by developing new strategies to mitigate fouling formation in desalination thin-film composite membranes.
Email: jenny.jackson@ufl.edu
Victor Noronha
Victor was born and raised in the state of Ceará, Brazil. He received a bachelor degree in Biotechnology by the Federal University of Ceará. While an undergraduate student, he was part of an exchange program and spent a year at the University of Porto (UPorto), Portugal, studying Biological Engineering. Currently, he is a Ph.D. student in Biotechnology at the Federal University of Ceará and a visiting research scholar at the University of Florida (UF). His research interests include the interactions between nanomaterials and microorganisms and their practical implications.
Email: victor.noronha@fisica.ufc.br
Undergraduates
Sara Eghtessadi                                                  
Sara is a fourth-year undergraduate student pursuing a degree in Environmental Engineering Sciences. She has actively pursued her interest in water and wastewater treatment through coursework, research, and presenting at conferences throughout the country. Currently, her goal is to tackle global water scarcity by narrowing the scope of her research interests to the use of forward osmosis technologies, applications of graphene oxide to thin-film composite (TFC) membranes, and increasing water flux through mitigation of fouling on TFC membranes.
Email: seghtess@ufl.edu
Research Assistant
Fernando Alvarado                                               
Fernando was born and raised in Barquisimeto, Venezuela. He completed his undergraduate studies in Mechanical Engineering at Fermin Toro University with a minor in Industrial Maintenance. Throughout his undergraduate studies, Fernando worked in his family company Hidroteve, C.A., collaborating on water resources engineering projects with a particular interest in submersible well pumps. Currently, he is pursuing his Master's in Civil Engineering with a specialization in water systems. His research interests focus on the potential implementation of polymeric nanofibers for the development of sustainable water treatment processes.
Email: fernandoalvarado@ufl.edu