This is a decision-support tool for planning multi-hazard evacuation. This tool is a website that includes the datasets, programs, analysis results, visualizations, preprints, reports, and other relevant materials to help stakeholders to gain useful information for decision making and to guide policy intervention. This tool is co-developed with international experts in evacuation modeling, including Ruggiero (Rino) Lovreglio (Massey University, New Zealand), Erica Kuligowski (RMIT, Australia), and Daniel Nilsson (University of Canterbury, New Zealand).
For any questions regarding this tool, please contact Xilei Zhao (xilei.zhao@essie.ufl.edu).
---
Publications
[1] Zhao, X., Lovreglio, R., & Nilsson, D. (2020). Modelling and interpreting pre-evacuation decision-making using machine learning. Automation in Construction, 113, 103140.
[2] Zhao, X., Lovreglio, R., Kuligowski, E., & Nilsson, D. (2020). Using Artificial Intelligence for Safe and Effective Wildfire Evacuations. Fire Technology, 1-3.
[3] Yuan, F., Zhao, X., Liu, R., & Li, M. Supporting crisis response with Internet of Things (IoT) based systems. (Under review)
---
Software
[1] https://github.com/EvacuationBehavior/Pre-Evacuation-Decision-Making
---
Visualizations
A conceptual framework for integrating AI with existing wildfire evacuation modeling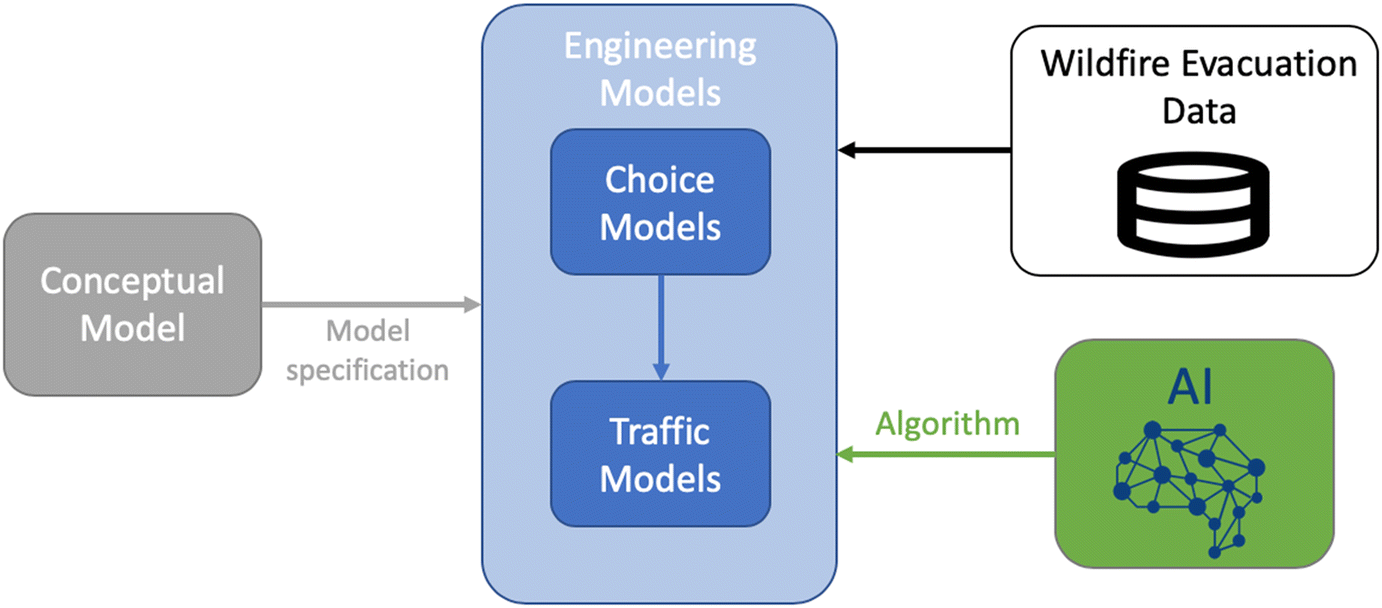 ---
Funding Sources
Analyzing Wildfire Evacuation Behavior with GPS Data
X. Zhao (PI), R. Lovreglio (Co-PI), D. Nilsson (Co-PI), K. Nguyen (Co-PI), E. Kuligowski (Senior Personnel)
NIST
Sept, 2020 – Aug, 2021
Modeling of Evacuation Behavior in the 2019 Kincade Fire, Sonoma County, California
X. Zhao (PI), R. Lovreglio (Senior Personnel), E. Kuligowski (Senior Personnel), D. Nilsson (Senior Personnel)
Natural Hazards Center
Feb, 2020 – Dec, 2020
Community-Driven Evacuation Planning and Scheduling
X. Zhao (PI), R. Liu (Co-PI)
Florida Sea Grant
Feb, 2020 – Feb, 2021
An IoT-enabled Critical Infrastructure Information Network for a Future Resilient City
X. Zhao (Co-PI), R. Liu (PI), X. Yu (Co-PI)
The Florida Institute for Built Environment Resilience (FIBER)
Jan, 2020 – Jun, 2020